The idea of creating a mobile life was far-fetched to most. On a sailboat even more far out, but for us it was a possibility we envisioned as a reality. Our best effort to achieve a minimal lifestyle, a natural state free from all the material things in life. Not a vacation or a temporary get away but a different way of living and working. The chase of a simple flowing life…welcome aboard!
The CREW
Off the grid news radio interview
The Whole Enchilada! 
Denver, Colorado 2007 | In the middle of a work driven atmosphere email conversations were flowing like running water between us. Sailing the same lakes I'm pretty sure our paths we would have crossed at some point, instead technology connected us sooner and a love for life unraveled. Engineers in different trades creating something together was at the top of the list. He told me about his dream to sail and live on a boat, and I swear that's when I fell in love, with everything. The stars aligned and far out ideas were on the horizon, we were ready to live by our own design. A week later he moved in and the following months we quickly started to work on our dream to travel the world. A mutual goal to live life to the fullest…. where simplicity rules and a natural state of mind rocks.

If there was a way we could escape the rat race we were going to find it. 
And for us technology was the key.
We are not millionaires, far from it actually. So in order to achieve our dream we knew we had to work hard. Making a plan to start our own business, we quickly sprouted a Technology company in Colorado within that month of meeting each other. Together we structured a nice strategy to achieve our dream and pursued it. Using new ideas and hybrid virtual systems we created an organic company that revolved around passionate people needing that extra edge. This IT company would be the means to our goal or at least that was the idea. We knew money was important, but we also knew it wasn't going to take much for us to be happy….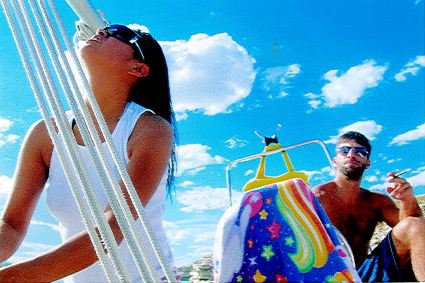 Sailing towards a dream with no hesitation we were now a couple. A traveling/ technology couple.
Weekends on the lakes of Colorado we would sail our 26ft Mac Gregor no matter the weather, this was training for us. Even then we would pretend we were on the ocean and distance ourselves from the hustle and bustle of the real world. Working from a laptop in the middle of the lake. Knowing someday we would leave. Someday, the open ocean would be our home.
2008 | Time is precious. Our relationship quickly unraveled shortly after starting a business together. We got engaged 6 months later, then eloped within a year of knowing each other. The spontaneity continued like we never stopped flying.
When most newlyweds are planning on buying a house and having kids we were looking at a map of the world discretely planning sailing routes.
Every move we made, everything we owned was towards the goal. The house we rented, the car we drove. Soon would all be gone and we could not be any more happy to let all of this go…
That year I left my job and career as a structural engineer. Joining my husband full-time in the technology business we built together. Now, we were both going to give it our all. It was up to us to make this work.
The goal was to grow our business exponentially so we could travel indefinitely….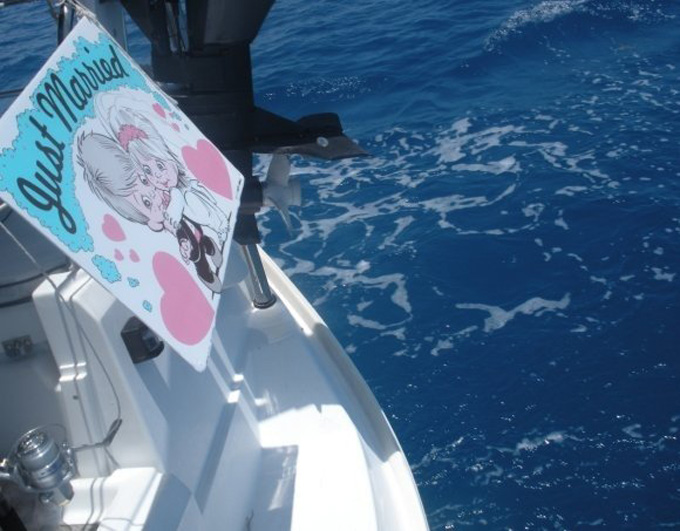 2010 | From the corner of a small bedroom apartment we quickly grew into a humble Feng Shui office building in Lakewood, Colorado. We were enabling businesses and their employees to be mobile though the use of cutting edge technology. Offering small businesses enterprise class technology and the valuable tools at a fraction of the cost. Allowing them to be more effective and efficient as any other multi-million dollar company operating at that level. Creating a virtual world where anyone can work from practically anywhere!
As our company grew, the "cloud" we were creating for our clients was no longer just a cloud anymore. It became valuable experience that would enable us to live out our dreams.  We looked at our business and saw a sea of opportunities and the ocean was calling….

There will never be enough money….
Just go.
October 2011 |  With eyes wide open and no hesitation an opportunity presented itself and we went for it! We simply chose to sell our company and make due with the funds we had. The opportunity to start fresh was intriguing. Quickly realizing there are better things in life than to be rich. There was no hesitation, we were going to make this work. Having experimented working from a sailboat we were ready to test the waters and leave the stability of land. We knew our money would run out someday but we also knew we were entrepreneurs. Building a backbone of experience growing a company out of an idea, and experience working from our sailboat, we were fully equipped to take this long-term. Literally the next morning our lives began to adjust course for a sailing life just around the corner.
Within 5 years we were ready.
All those late nights working, all the effort and time put into a company that was the goal to this dream is finally here. It all came down to a total life change that we would have to accomplish within 3 months! In the middle of winter, in Colorado??!?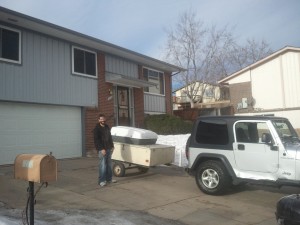 By January 2012 We found a great deal on a boat in Miami and went with the vibe. Everything in our rented house was empty. Ice on the ground. Jeep and a little trailer packed, there was no turning back. Within 3 months we reduced everything we owned to fit into this tiny box trailer we planned to haul across the United states to live on a sailboat! We said sayonara to everything familiar and headed East. A monumental road trip to Florida and an excellent way to start the New Year! A total life change with everything we own. Nothing can prepare you for the exhilarating feeling of freedom. Quite similar to jumping out of a plane actually, kinda scary but that's the fun part! Taking the scenic route, we camped most of the way enjoying nature and soaking in the landscapes.

A different way of living. 
By February 2012 | We prepared our floating oasis as best as we could for the long haul. Concentrating on safety first we had all the necessary items and the rest we would have to figure out along the way. After our final inspections and safety items in place we were ready to sail out of the United States! All the hard work and late nights educating ourselves were finally coming together. The moment we have been waiting for. We had freedom to do anything and go anywhere, so we went! A plan to survive with on small budget and live off the earth. Having worked so hard this was our way of taking a break from what consumed us. Making the experience pure and serene ~ This was about letting go, surviving at sea, becoming one with nature.
With the intention of NO WORK and ALL SAIL we disconnected and went off the grid completely.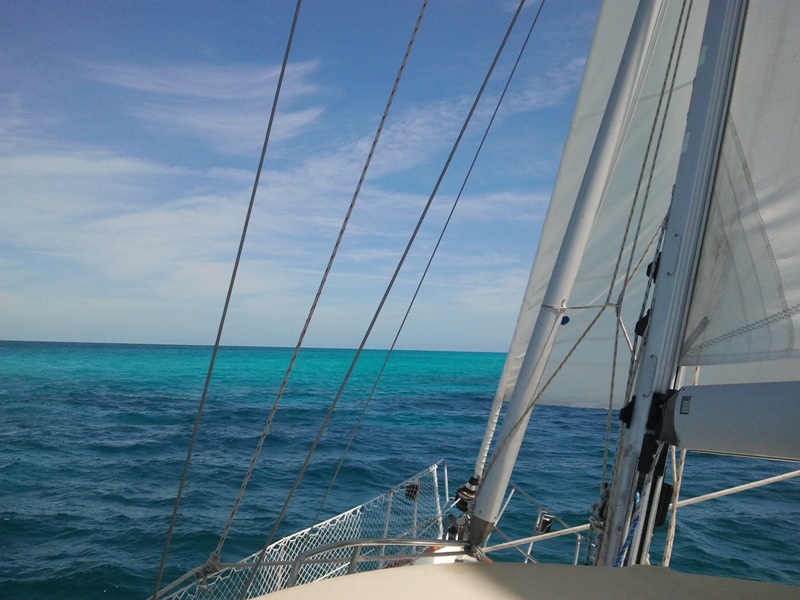 Life with less.
 Realizing we don't need much, our comforts of living were still retained and even enhanced by our surroundings! The weightlessness and freedom of simplicity was just what we needed. Our efforts to minimize were realized immediately as we began to see all the benefits of not having all the extra stuff. Not only were we using very little money but it was also a very awesome way to reduce all that over consumption and be kind to our environment. When you reduce you realize you never needed those things. But more of a fact that those "things" are what hold you back from doing what you want, going places you want to go. If we can show and now prove how we can live with less our only hope to inspire others how beautiful life can be by reducing.
Below is where we traveled within 15 months, to view our budgets and our transition back into work life from our sailboat click on the picture.

Creating a different way we think of work.
The yin to our yang | When we took time off from work, for us that was a much needed system reboot. The money we had ran out fast, but that's when we started utilizing technology to its full potential only this time we were adjusting it to our pace. To keep the dream alive and to keep the flow coming in we created a fully connected floating oasis! Discovering a balance combining two different worlds that would otherwise collide, technology and naturalistic simplicity. We discovered the yin to our yang…
Living a minimal life surviving off of very little, now knowing we only need the basics there is no pressure to make a ton of money. Utilizing our business experience I started a virtual company designing websites and dipping into a wide range of creative projects on an as needed basis. I have been so thankful to be able to set all this aside recently, taking on the biggest most important job, a full time mom. And I love it! My husband works for a technology company based in Miami managing an IT consulting practice. He works 4 days a week, and sometimes gets a sunburn doing so! Together we work remotely, and this is how it worked for us.
No more being stuck at the office full time. A chance we took that became our way of life. By maintaining our work ethic we are able to continue this lifestyle. Getting rid of all the superficial facades left us with more room for us. With a new outlook on life and the way we work we are able to survive off of the earth and rely on one's own will and self-sufficiency. We are now free to roam and work where we want!

We live by our own design 
NOW | We recently added a new crew member! Digital nomads working, traveling, and now raising a family?!? Plans in sand, we are moving with the seasons. Splitting our time between the sailboat and road life on the RV, we follow good weather and good vibes…
Once we made the move to live life with less, our lives did change, and it changed for the better. With only the best intentions our main focus now is to keep our son close to nature, and keep doing what we are doing. We might not be super rich in funds, but you know what it doesn't take much money(or things) to be truly happy. And for us being able to do what we love and be with our son full time, this is where the real journey begins!
If you spot a couple holding little box in the air from a sailboat or adjusting a strange long stick on the top of an RV looking for the best Wi-Fi signal…and possibly a naked baby running around, stop on by and say hi!  
A goal far-fetched now our reality. With the help of technology it has granted us the opportunity to live out our wildest dreams and enabled us to create new ones. I guess in some crazy aspect dreams do come true. The plan not only worked but it freed us from all our fears. We are now able to give our son the chance to experience this world the way we wish to preserve it. Where time is precious, and life is good, we welcome you aboard our wild ride through life. The question to ask yourself now is…What is your dream?
Welcome aboard!
Ryan, Olivia and Rocean
"The world needs dreamers and the world needs doers. But above all, the world needs dreamers who do." 

-Sarah B.